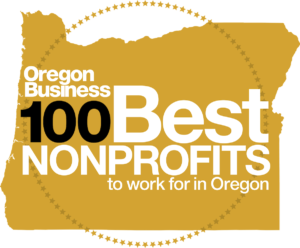 Oregon Business magazine announces Youth 71Five Ministries (formerly Rogue Valley YFC) is a 100 Best Nonprofit to work for! 71Five is not only a place to grow and develop professionally, it's a place that will change you personally. We're a place where careers in "raising lifelong followers of Jesus" are made. Youth for Christ is always searching for high-integrity individuals that desire to directly or indirectly impact youth.
Youth 71Five Ministries Application:
If you are interested in pursuing an opportunity with Youth 71Five Ministries, your first step is to complete our Employment Application, including the Application for Criminal History Background Check and return both of these items to us along with your resume (if available). You may either download the items below or contact our office to receive a copy by mail. Inquire on Job Postings below with Bud Amundsen, 71Five Executive Director (541) 779-3275 and bud@71Five.org.
Job Postings
(Looking to fill positions in Jackson and Josephine Counties.)
71Five Campus Director(s)

:
71Five Campus (formerly Campus Life) Youth Centers provide a safe and supportive place where young people can grow and play. It's an environment where teens share their feelings and ideas, and gain understanding and values according to the teachings of Jesus Christ. Youth Centers create more time to be involved in the lives of kids and create fun, safe space for our clubs to run effectively.
71Five City is a relational community based ministry that desires to see deep change in an inner-city neighborhood through the raising of local leaders from the young people in that community. Providing 71Five City in Community Centers is an effective ministry model to transform the lives of inner-city youth, their families and the communities that they live in..
71Five Connect Director(s):
71Five Connect Workshop improves behaviors, values and attitudes of middle and high school students on their campuses and in their communities, intervening before acts of hatred or violence occur. As a result, better learning environments are created, relationships are forged and reconciliation begins.
You may submit your information to:
71Five Executive Director
529 Edwards Street, Medford, Oregon 97501 | (541) 779-3275 | office@71Five.org